Nowadays, a dining table is a must in any type of home, regardless of your taste in home decor. They can be of many styles and shapes, they can be designed for large dinner parties or just for two people. The options here are limitless. However, some habitations just don't have enough space for a large table. That's where extendable dining tables can become very useful, as they are highly versatile and are able to match pretty much any interior or exterior. In this article, we will guide you on how to pick the best extendable dining table you possibly can, and guide you through its features every day.
some habitations just don't have enough space for a large
What is an extendable dining table?
The extendable dining table's primary characteristic is its unique design (some even look like a barrel crate!), which consists of a tabletop split into two sections. A second one, which is easily stored in a compartment under the tabletop, can be added to the movable sections to expand the dining area.
Many customers who come into a furniture store to purchase a table do not consider buying extendable dining tables, with an explanation that it is difficult to extend the table repeatedly.
Modern models, however, come with a very useful feature that makes it simple for even a teenager to handle this task. The sliding variants with a single central insert are the most popular and well-known.
Additionally, there are upgraded tables with two central pivot points. In actuality, they use two central strips that are concealed in the underframe as a means of expanding the dining area. You must pull the edges of the top of the table in various ways to unfold this design. They open the inserts, which should then be turned and moved together with the tabletop's components.
Advantages of buying an extendable dining table
List of advantages:
The ability to expand the usable room if necessary to sit more guests at the table without anyone left to stand. The design is compact when assembled and may be installed in small places, making it highly versatile.
Aesthetics. Models with a glossy white finish are particularly well-liked. They blend in beautifully with any decor.
Working conditions that are comfortable and enable you to handle the dining table with little to no effort at a moment's notice.
You won't need to get another table for the living room when you get an extendable dining table. All visitors can be comfortably accommodated because it is in one room.
High levels of dependability, durability, and wear resistance. A wooden extendable dining table built of top-notch materials can support huge loads while retaining its aesthetic value and original specifications.
With proper care, furniture has a long service life of up to 20 years.
Please take note that folding tables expand in length, breadth, and height and that you can adjust objects to change a small table into a three-dimensional object. Even in a small kitchen, this device looks excellent.
Even kids can use the gadget thanks to how simple it is to use. Adjustment entails smoothly raising and lowering the dining table's top. The dining room will be as open as possible thanks to the folding seats' compatibility. Any room can use the transformer due to its practicality. The mechanism handles the load that a typical dining table experiences with ease.
You should not rely on unreliable manufacturers when selecting a sliding dining table; instead, you should think about buying products from well-known firms that will guarantee the folding mechanism. Of course, paying extra for an extra feature is necessary.
Disadvantages of buying an extendable dining table
In addition to their advantages, an extendable dining table might have some clear drawbacks as well:
High cost due to the device's complexity, the standard of the fittings, and the manufacturing materials utilized.
Inconvenient leg structure.
The dining table's weight and bulk. But this size fits the traditional décor and country aesthetic really well.
How do extendable dining tables function?
The mechanism that makes up this dining table can be changed in just one or two motions. With its unfolding, the style has a durable structure that can survive numerous manipulations. The use of metal or wood in the construction of such a device is advantageous. Plastic's base is more brittle and easily wears away, leading to product failure.
This kind of furniture requires sturdy supports that can sustain heavy loads. Metal works well for these purposes since it is more dependable and long-lasting.
The product's high price is primarily caused by the inability of the design to be created by the consumer themselves. Still, people choose to buy extendable dining tables in spite of this fact.
And they are incredibly convenient! Just unfold the table (or unfold the leaf for a butterfly leaf extension table), and add a seat for each of your guests. Seating can vary depending on the situation, it may be a bench for outdoor gatherings, or some chairs for an indoor one.
How to choose an extendable table?
It is simple to choose the best extendable dining table. Here, external qualities as well as style elements are taken into consideration. You must specify the future furniture product's dimensions and take into account any gadget state given the confines of a tiny kitchen. Depending on the layout of the room, the dining table might take on any style and shape.
The inequitable quantity and quality of fittings account for price variations. A transformer will cost more if it is disassembled as soon as possible. These indicators consist of its dimensions and the caliber of the raw materials employed. Any kitchen extendable dining table purchase should be carefully considered because doing so will result in future complete contentment.
Before making a purchase, you should
Measure the dimensions of the room
It is worth paying attention to how much room the extendable dining table will take when folded and how harmonious it will look in the interior. If you choose the right dimensions, the model will be used constantly assembled, and conveniently laid out on holidays when guests arrive. But overpaying for a huge countertop that will not be used is not worth it.
Assess the functionality of the product
We must decide if the countertop's expanded surface space is sufficient for receiving visitors from family and friends. You might check if there are any extra practical features like cutlery drawers or small shelves for napkins and other small objects.
Check the quality of materials
We must decide if the countertop's expanded surface space is sufficient for receiving visitors from family and friends. You might check if there are any extra practical features like cutlery drawers or small shelves for napkins and other small objects.
It can be made of solid wood (such as solid oak), which gives it a cozy and timeless appeal. You'll need to assess the state of the wood the table is made of to see if your dining furniture is fit for everyday usage.
Natural wood grain
dEach tree has a distinctive pattern in the way its trunk is carved out.
In oak and ash, the most exquisite and peculiar drawings may be found. The pattern will be delicate and subtle in birch and beech. And there are knots in a cut of a solid wood trunk.
No hardwood should have knots on the cutting, including oak, beech, and ash. They only apply to solid wood from conifers. For instance, knots on a cut of pine are acceptable, but they shouldn't be darkened or cut off from the tree's main surface.
Sturdiness
Naturally, there is no need to damage and ruin anything nearby. However, there is a sneaky, nearly quiet method you can use: run your fingernail down the tree's surface. It would be a great disappointment if the furniture you like ends up being filled with plastic inside.
If nothing is left behind after that, you have good, solid wood in front of you. Solid oak is considered the most durable wood, with a pin holding the second place.
Pay no attention to the country of origin
If glue or staples are used to join the pieces of wood together, this indicates that less money was spent making the wood furniture than what they are trying to convince you.
Using a unique process of joining parts, high-end furniture made of natural wood is produced. It is known as "interlock" because each component has a jagged wood structure on one of its sides and is attached to other wood components like puzzle pieces.
A good connection between pieces means a long life for your solid wood furniture, whether it is a table, or seating for your guests, like chairs or benches (so that your friends may sit comfortably without worrying that it may break under them).
The longer an extendable dining table lasts, pleases the hosts and visitors, and allows you to enjoy dinner parties and conversations, the more seriously you should consider purchasing one.
Types of extendable tables
Different extendable dining tables come in different styles:
Extendable dining table with drawer frame
The history of this classic design can be traced back to Renaissance Europe. It has a large base with legs, on top of which is a tabletop that has extra mechanisms to extend its surface area.
Naturally, dependability, stability, and durability are benefits. A similar construction type has developed over several centuries, becoming more modern as sliding functioning systems were altered and enhanced. The usual shape of this type of table takes the shape of a rectangular table.
The drawer frame tables do have some disadvantages, though. Because of their size and huge appearance, they look out of place in spaces with a "floating" style that is more prevalent. Additionally, some models could cause discomfort and annoyance for tall people when they wish to throw their legs back.
Why do these types of dining table hold value?
Incredibly durable
Shape stability in any circumstances. Slider versions made of wood can support big weights.
Long usage period. The metal components of the transformer have a long lifespan.
drawbacks:
The drawer will always get in the way when shifting the legs under the extendable dining table, which accounts for the lack of suitable comfort.
This transformer appears to be huge. Such a design is rejected by the interior's delicate and exquisite tones. The drawer is first and foremost a dependable, sturdy, and expensive fixture.
There are numerous versions of the drawer frame style. The area of the additional plane, the ease of its adjustments, and the look of the dining table all affect the design.
Non-drawer frame dining table
It is an evolution of sliding tables with drawers. There is no requirement for a substantial base to expand the useable area, which is a result of contemporary engineering and style concepts. However, light materials like glass or chipboard are used for the countertop.
It is simple to deconstruct and reassemble and has a highly luminous, soaring appearance. However, its dependability falls short of the sturdy drawer frame in a number of positions. Additionally, the price of these goods is substantially higher. The frame and countertop materials, as well as lightweight functional fittings, have an impact on pricing.
Extendable dining table with separate and pivoting center inserts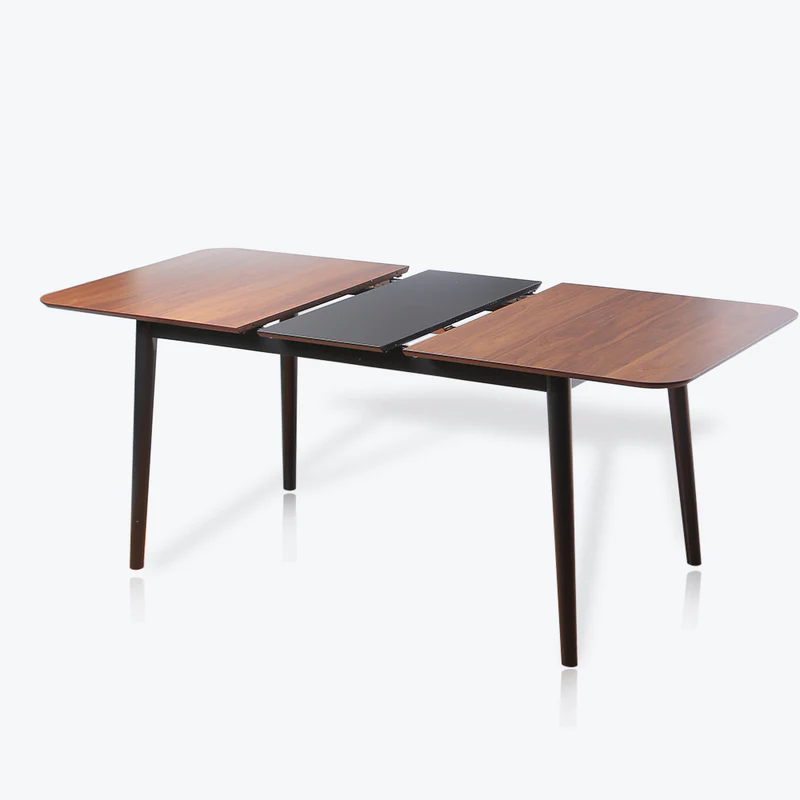 The furniture market has seen both types before. The independent core insert of the extendable table's sturdy, stable construction naturally developed into a swivel insert, as seen in the pictures below.
swivel insert for a sliding dining table The extra component in the first scenario is a one-piece insert that is kept under the tabletop when not in use. It is sufficient to space the doors apart and slide the extra center door into designated slots to increase the size of the dining table.
The same center rate is present in the second portion, which is an addition, but it is divided into two symmetrical halves and fitted with fittings that reduce the physical effort required and remove distortion, which frequently occurred with predecessors. However, a second docking seam also appeared at the same time, which may not be to the taste of pedants and perfectionists.
Extendable dining table with movable legs
A simple and practical style. Special guides allow the tabletop's surface area to be extended without exerting any force. Despite the utility, the looks suffer a little bit: the retractable tabletop is not symmetrical to the main tabletop, and there are apparent transitions between the frames.
Folding table with movable legs and a table-book
Both models can be easily passed off as a coffee table and be put in small spaces, and, if necessary, double or even triple the countertop's useable space, turning it into a full dining table, able to situate up to eight people.
Butterfly leaf extension table
A butterfly leaf gets its name because, when its two leaves are extended into position, it resembles a butterfly's wings. The leaf can fold, stack, and slide under the table top for storage thanks to a middle seam.
These extension leaves are dependable and simple to move, and they effectively withstand the test of time. The hardwood surfaces are stunning when folded, but the center shows the seam. Two joints are visible in the structure's unfolded configuration.
Under the tabletop is a one-piece insert. This is how the mechanism operates: whenever a need occurs, the extension leaves are separated, and this portion is removed, joined, and then fitted into the grooves.
Due to the style's smooth ride and low effort requirements, this table is easy to be extended at a moment's notice. A surface area that is doubled or tripled due to the extension leaves, which allows you to accommodate a big number of people (if you have a seat for each of them)
Where to buy an extendable dining table?
After we have settled on the things you should be looking out for when choosing a table that is suitable for you, we have another question: where to buy it? Worry not, for we have assembled a small list of brands that sell the best extendable dining tables around! We will also give you some of their products that may be just what you need.
Pottery barn
Company
With retail locations in the United States, Canada, Mexico, and Australia, Pottery Barn is a chain of home goods stores and an online retailer and provides a wide range of some of the best extendable dining tables around.
Product of choice
One of their best-selling designs, which might be just what you need is the Malibu Extending Dining Table. It is quite affordable, and also comes with a set of dining chairs for your family and friends!
Room & Board
Company
American retailer of contemporary furniture and home decor, Room & Board is situated in Minneapolis, Minnesota, and provides a wide range of furniture.
Product of choice
A great option that may interest you in their online shop is the Vista table. Unlike the options of some other brands, its design is quite minimalist, simple design in structure, and made out of metal. This combination allows it to be a nice match for your garden. When it is unfolded, will be able to accommodate quite a few extra guests, if you add some seating like chairs or benches
Overstock
Company
Online shop Overstock, is based in Cottonwood Heights, Utah, not far from Salt Lake City.
At first, Overstock sold unsold and returned goods to online marketplaces, clearing out the stock of at least 18 dot-com failures at rates below wholesale. They expanded their activity in recent years by starting to offer new goods. If you want an affordable and durable table, this might be one of the brands that may interest you.
Product of choice
A table in their catalogs that is considered to be among the most popular is the Wood Farmhouse Table with an extension leaf. The sitting area may be expanded thanks to an extension leaf, and the pedestal base adds stability. Not to mention that it is quite eye-catching!
This kitchen table will be a durable addition to your house thanks to its solid rubberwood construction. Three finishes are offered: oak, white/natural, and grey/walnut. The structure of the table includes one pedestal table and one leaf.
To start the preparations for a meetup with your friends, just unfold the one extension leaf and extend the table. Then, add a seat for each of your guests and you are good to go!
How can you make your own extendable dining table?
Without the aid of experts, creating sliding tables is quite possible.
They have a simple structure: to create a table, you need four legs and six sides. The legs of a drawer can be fastened to plywood, while the remaining components are fixed with horizontal slats. The table's components must all be the same color.
It is preferable to acquire sawing components from experts since it is unlikely that you can accomplish evenness of the saw cut and dimensional precision at home.
Sanding, varnishing, and another iteration of the process are applied to the plywood and legs.
Sliding tables will provide a comfortable, functional environment. They will make the table more eye-catching, and thus will add beauty to the room and help you save precious centimeters of space.
Security and dependability
Many customers who purchase dining tables online question the necessity of such a solution because they worry about the outcome of reverse folding or tipping over. Modern iterations of similar furniture, however, are quite safe to use. This is accomplished by using high-quality fittings, which give the design a number of benefits.
Benefits of using an extendable dining table:
superior technical features;
great reliability;
capacity to endure heavy surface pressure, etc.
Dining tables come in a variety of styles from folding furniture manufacturers. Choose a more traditional hardwood table or invest in a unique glass table that will become the focal point of the dining room. The size, manufacturing material, and unfolding mechanism of your furniture are just a few of the variables that affect their cost.
Conclusion
If you want flexibility in your eating arrangement, investing in an extendable kitchen or dining table is a smart option.
Extendable tables are ideal for people who wish to make the most of the available space in the room because they can be used as a standard dining table for daily meals but are also easily adjustable to seat additional people when necessary.
An extensible dining table guarantees you'll never run out of space if you prefer hosting huge family gatherings or inviting friends over for dinner.
Hello!
I am Ann Armstrong.
The kitchen is the universe of the home.
The beautiful furniture and amazing design of the dining room
have always inspired me. All the best ideas for transforming the kitchen throughout
my life were born from the greatest difficulties. And I know that's what makes my projects special.
In the meantime, I allow you to spy on me, get inspired by ideas and share your own.
And I really like to receive feedback, I look forward to your letters and comments.